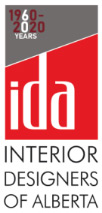 DEADLINE EXTENDED TO JULY 15, 2020
Interior Designers of Alberta
2020 Student Research Competition
Post-secondary students and new graduates have beenhit hard by the COVID-19crisis. Our summer plans have taken a different direction than we were expecting, and opportunities are scarce for work opportunities. Financial uncertainty makes planning for future school years (or a transition to the work world) difficult. The interior design industry as a whole is in transition, and we are learning about the immediate and long-reaching changes caused by this pandemic.
To help Alberta Interior Design students respond to these challenges, IDA is proud to launch our 2020 Student Research Competition. Students are invited to research and write an article of approximately 1000 words which explores an issue that will impact the design profession in the post-COVID world.
Benefits:
develop insight into a significant world event which will impact design in the years to come
build your skills in writing and research
enhance your resume
make connections with industry professionals
see your work published in the IDA website, newsletter and/or on social media channels
The top 5 submissions will receive a cash honorarium!
Instructions:
Your submission may relate to commercial or residential design.
Sample topics are provided; or students may define their own topic. Ideas discussed may reflect short-term or long-term impacts on the industry.
For tips on writing a research paper, refer to:
All sources must be cited according to the standards of your institution (e.g. APA Guide, MLA Guide, etc.). Refer to your school's website for guidance.
Potential references for your submission may include:

Popular magazines/e-magazines (e.g.Interior Design, dezeen.com)
Industry Associations (e.g. ASID, IIDA)
Scholarly journals (e.g. Journal of Interior Design)
Mainstream news sources (e.g. New York Times, Globe and Mail)
Publications from industry members (e.g. Steelcase, Gensler, Cushman & Wakefield)
Eligibility:
Current/incoming 2nd, 3rd or 4th year students, or 2020 graduates.
Applicants are not required to be current IDA student members.
Deadline:
Applications will be accepted until June 30, 2020.
Selection:
Members of the IDA Council will review applications and select the winners.
---